It is common knowledge that exercise is necessary for everyone. Whether adults or children, everyone benefits from an active lifestyle. Not only does it help us to have better physical health, but improves our mental and emotional health, as well as our social well-being. Overall, exercise is linked to a better quality of life now and in the future!
Thanks to the pandemic, outdoor exercise is becoming more popular because it allows for physical distancing. For this reason, today we list the 4 main benefits of exercising outdoors:
Boost mental health
Different researches have corroborated this fact. People who exercise outdoors report feeling more connected to nature, which helps them feel calmer and therefore happier.
In addition, people who do any type of outdoor exercise also come to feel more energetic and enthusiastic mainly due to the release of feel-good hormones such as dopamine and serotonin. Even low-intensity activities such as walking or jogging in "green" surroundings can help you combat stress, reduce anxiety and increase your mood. So if you're feeling overwhelmed by a situation at work, school, or home, look no further and get out and exercise at your nearest park.
Reduce risk of heart diseases
Similarly, spending active time outdoors can not only reduce stress levels in your body but also reduce blood pressure. Studies have shown that in this regard, outdoor physical activity lowers blood pressure and heart rate, which results in lower risks of suffering a heart attack and developing cardiovascular disease in old age. A bonus of exercising outdoors is that you achieve a higher performance than exercising indoors because it is perceived as a less arduous activity.
Help to increase Vitamin D levels
Through exposure to the sun we get our daily dose of vitamin D. Therefore, one of the most powerful advantages of training outdoors is enjoying the benefits of exposure to natural sunlight. And why the vitamin D so necessary? Because it protects us against overweight, increases energy generation in muscles, strengthens bones, boosts the immune system, and prevents metabolic and mental health-related diseases such as depression.
It's free & available for everyone
Starting the year paying for a gym subscription can be something that holds you back from starting an active lifestyle, or even creates a lot of pressure to have to attend every day without fail.
However, outdoor environments offer a simple, low-cost solution for those who want to get started in their fitness life. Working out at outdoor fitness equipment is usually completely free and open to anyone regardless of their age or background. So without a doubt, exercising outdoors is good for your pocket and is an excellent investment in you!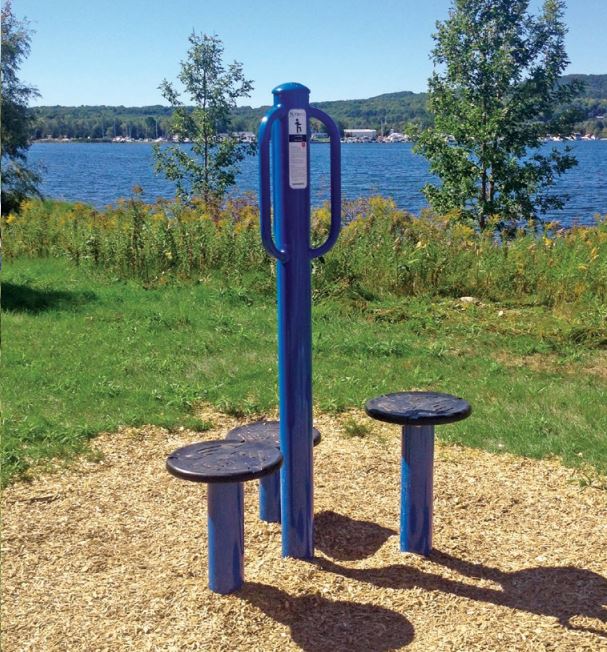 Having in mind these benefits, hanging your regular workout location can be a great idea and make a significant impact on you and your family's life! And while you don't need any special equipment, it's easier to perform workouts with guaranteed results on equipment designed for working out. So what better way to start exercising than by having the outdoor fitness equipment available right at your nearest park?
The number of outdoor fitness parks has increased thanks to the needs seen during the covid-19 to have a healthy style in a safe environment for everyone, so don't think twice and start exercising outdoors while the little ones enjoy some playtime. I assure you that exercising will be more enjoyable than ever!
We can offer your community a wide variety of outdoor fitness equipment for starting a healthy lifestyle. If you want to know more about this topic, you can subscribe to our newsletter and access our free report entitled How to finance a playground for my community?