Surfacing design options are often one of the last thoughts for an end-user, but one of the first thoughts that a landscape architect or playground designer needs to consider.  With the limited options for safety surfacing, it can feel difficult to create an eye-catching design for a reasonable price.
Rubber surfacing is always a favorite when the playground client chooses to invest in it. While the brightest colors and most intricate designs can be a significant investment, there are also more affordable options (which your client will appreciate) that still offer visual appeal (which offers you more design options).
Westplay offers both Poured-In-Place (PIP) Rubber Surfacing and Rubber Tiles that lock into place. PIP and Tiles each suit different projects based on the shape of the space, the presence or absence of borders, ease of access for installation, and what colors or built-in designs are requested. Both types share, however, the durability of new innovative production and installation methods (though the details of each are a little different), and the characteristic that price varies by color. The color-based price difference is mainly because darker colors are much easier to produce, and some of the brightest colors require UV-resistant (i.e., more expensive) sealant or glue.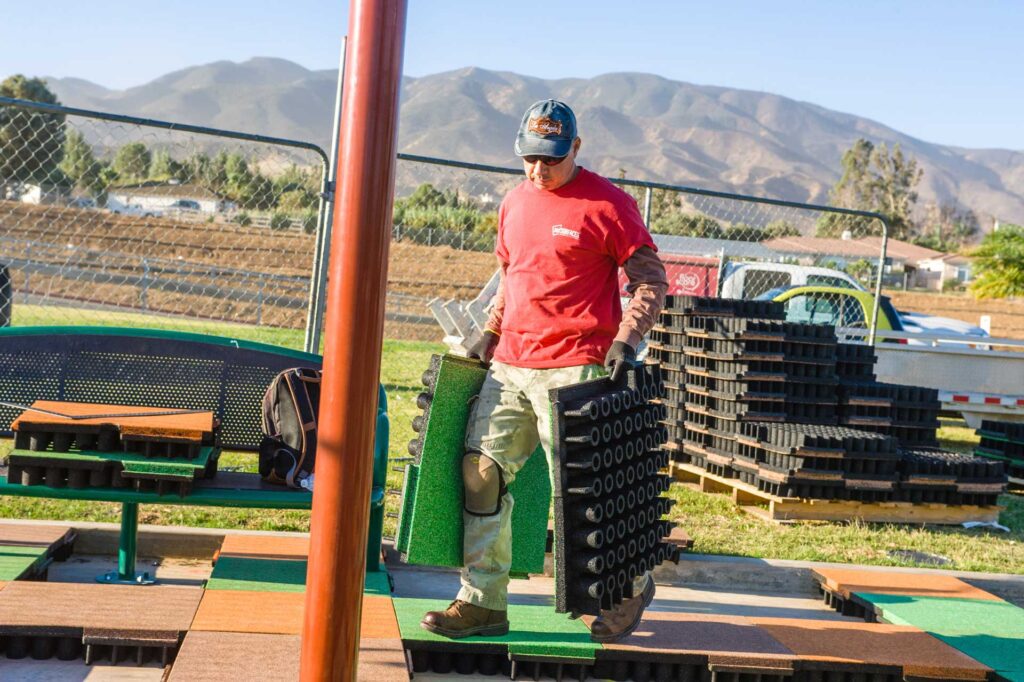 Our partner sofSURFACES provides duraSAFE rubber tiles, which have different product lines for different colors, and different thicknesses to meet CSA standards depending on your selected equipment's fall height (sometimes called drop height). With these 2'x2' tiles that install surprisingly fast, you can incorporate different geometric shapes to be included in the design which could add play value, such as:
A subtle checkerboard of dark colors, which kids will inevitably find a use for;
An abstract version of hopscotch (no outlines or numbers, but all kids know the shape);
A simple rectangle to act as a 2D "stage" in an unused corner;
One or more straight lines of a contrasting color to "balance on" or have races between;
Isolated squares of a contrasting color to act as 2D jumping blocks.
Our partner Shercom Industries offers a variety of PIP options in the SherPlay Series, some of which are very affordable and some that are extremely innovative – and some of these options even overlap! For muted colors, Sherflek is an excellent material made mostly from recycled tires (so it's environmentally friendly and more affordable); SherPlay PlayTop with Nike Grind is an innovative approach to upcycling uses actual Nike sneakers. SherPlay PlayTop also offers bright, beautiful, and totally new surfacing innovations like Aquatic play surfacing, Spheres, adorable 3D animals, and unique PlayTop Street interactive surfacing with built-in lights, sounds, and sensors to facilitate specific games.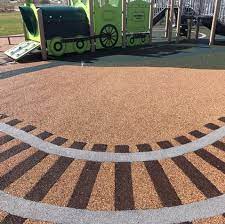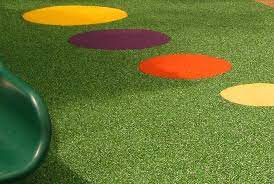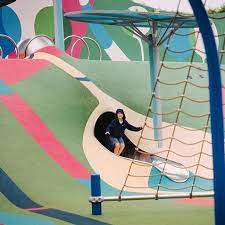 When asking a supplier for project-specific details about either type of rubber surfacing, the supplier will need to know, at minimum, these three things:
Your color preferences (bright? muted? custom?), including any visual patterns;
The anticipated dimensions and shape of the area to be surfaced; and
The fall height of any play equipment you're planning to install.
Have questions about rubber or what types of surfacing will be best suited for your client's visitor demographic? Westplay can help! Already know your needs and just want aesthetic options? Westplay can help! Want to choose the best inclusive and accessible combination of surfacing and equipment? Westplay can help!
Send us an email at info@westplay.ca, call us at 604-424-4168, or check out our Playground Education series on YouTube or our bite-size Podcast episodes. These resources are free and available to the public because we want to help you understand playground options as well as you understand your clients' needs.