So you have a project that calls for rubber surfacing on a playground, walkway, or other recreational areas. Maybe you're excited about it, or maybe you're worried about the cost and logistics. What's the appeal, anyway?
Rubber surfacing has as many benefits as it has types and applications. While the most common application people think of is for playgrounds in either Tiles (such as duraSAFE) or Pour-in-Place (like Sherplay), it can also be useful for sport courts, waterparks, water feature patios, and cutting-edge- interactive games for sidewalks.
duraSAFE Colors and Finishes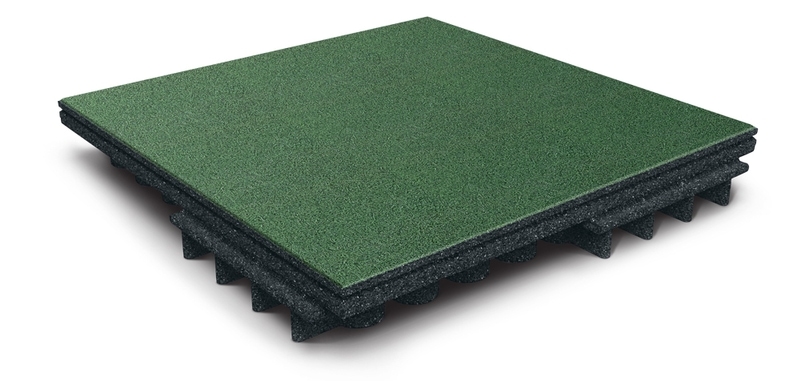 Available in 6 Colors.
It's true that the brightest colors and most intricate designs in any type of rubber surfacing can be a significant investment, there are also more affordable options that still offer visual appeal. Also, while wood fiber is an excellent basic surfacing material for playgrounds that need to be built on a tight budget, rubber surfacing offers three main benefits beyond simple aesthetic appeal:
Low-cost or no-cost durability for years to come, because once the rubber is installed, it doesn't need to be topped up every few years like wood chips.
Low-maintenance or no-maintenance peace of mind for you and your client, because it is permanently installed in a uniform layer. (That means it won't work its way out of the highest-traffic areas where it's needed the most, such as under swings and slides, so it doesn't need periodic raking like wood chips need.)
More accessible playgrounds for all potential visitors, which you can be proud to offer your client. Of course, high-quality wood fiber does indeed meet CSA standards for accessibility when installed correctly, but have you ever tried to push a wheelchair through it? It's not easy, especially for caregivers with limited upper body strength.
And as a bonus safety benefit, rubber surfacing is much less likely to end up in some kid's mouth when compared with surfacing that is made up of loose parts.
When you ask a supplier for a quote for your project, the supplier will want to know a few things:
Do you need tiles, poured-in-place, or PIP+EWF combination?
What color(s) (bright? muted? custom?), including any visual patterns;
The anticipated dimensions and shape of the area to be surfaced; and
The fall height of any play equipment you're planning to install.
Regardless of what type of rubber surfacing you're asking for, you should also know that the supplier's quoted price will likely vary based on color (because of the difference in the processes to produce muted or bright colors and the type of sealant or glue for any given color selection) and fall height (because bigger equipment a more fall risk a thicker cushioning required). The supplier may also make some recommendations about tiles vs PIP if you have a round area or a square area, or if your location is easily accessible for shipments and installers.
Have questions about rubber or what types of surfacing will be most efficient for your project? Westplay can help! Already know your needs and just want pricing options? Westplay can help! Want to choose the best inclusive and accessible combination of surfacing and equipment? Westplay can help!
Send us an email at info@westplay.ca, call us at 604-424-4168, or check out our Playground Education series on YouTube or our bite-size Podcast episodes. These resources are free and available to the public because we want to help you understand the options as well as you understand your project.