If we want to live in a better world, we must make it a world that is friendly to all.
Playing is an essential part of childhood, that's why as a community, school, or family we should provide a safe play space for children with special needs or people with certain abilities.
There are tons of situations in which they face additional challenges when enjoying the outdoors but with an accessible playground, you allow children, parents, and caregivers to use the equipment and move freely around it.
There are thousands of ideas but today, we talk about some basic things to make a playground accessible.
Selecting a proper surfacing
An initial step in making a playground accessible to everyone is with its surfacing and entrance types. Ensuring access to the playground with an appropriate surface & entrance is critical to having a quality play space.
For example, among the surfacing materials, you can use rubber or rubber tiles, which are smooth, uniform materials with good resistance and cushioning. In addition, adding different ramps and building easy access routes will also provide safety and inclusion for caregivers, parents, and children.
Including more ground-level play activities
Providing your playground with ground-level activities is simpler and cheaper than it may seem. Among the type of equipment that can be used for this are musical instruments, creative panels with playful and sensory activities, wheelchair-friendly swings, etc. These types of elements will not only provide inclusive play for the children but also be different and fun.
Likewise, it is important to promote that these activities provide the same challenge and level of risk that other activities that are not at ground level also offer.
If this minimal risk does not exist, children may feel bored or dissatisfied. In addition, these challenges allow children to develop their skills, increase their self-esteem and generate a sense of independence.
Adding inclusive equipment
This is a staple for modern parks! The vast majority of playground companies provide elements with accessibility features.
Having a space where everyone feels included will allow people who use the playgrounds to enjoy themselves, to feel part of a group and, develop a sense of belonging, which is fundamental for optimal development.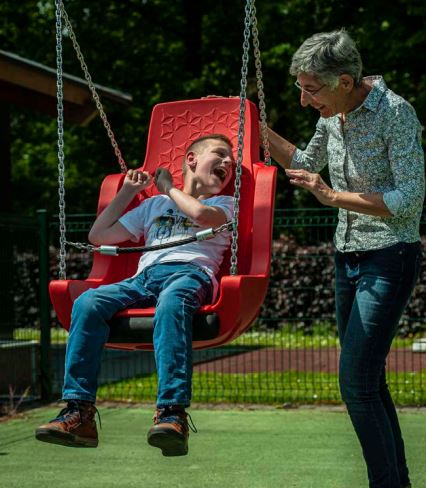 We invite you to make sure that your playground has a universal design for the participation of your entire community, regardless of their particular conditions.
At Westplay, we plan, design, and build the highest quality playgrounds for everyone to enjoy! Contact us at 604-424-4168 or info@westplay.ca if you want to discuss with us your purchasing for an accessible playground.